Nuggets get the win, give Lakers 3rd Straight Loss
The Lakers' poor game performance peaked late in the 3rd quarter where they were on a Fastbreak that ended on turnovers both times. By the way, the turnovers weren't due to amazing defense by the Nuggets, it was mostly due to poor performance by the Lakers. Seriously, watching the game, it was Anthony Davis vs 8 players. Yes, 8 players, 4 players with Lakers' jerseys and 4 with Nuggets jerseys, not name Nikola Jokic.
If you only looked at the scoreboard, its lying, this was not fun basketball.
Really want it to give the Nuggets as much credit as possible for this win and give them a headline like "Nuggets Stay HOT and beat down the Lakers". But that would have been a bit of stretch. The Nuggets didn't play quality basketball and mostly looked sluggish at times. They got the win, but they also had a lot of help from the Lakers.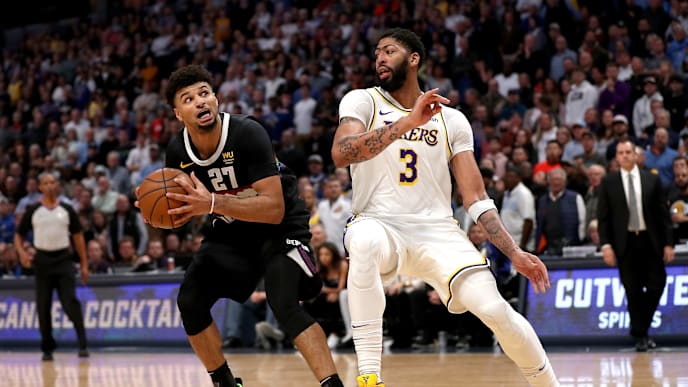 The Lakers ended the game with 19 turnovers to 18 assists giving up 128 points. They got closed the game on the Nuggets and then led them go on a run and didn't even try to fake a comeback. Without LeBron James, the Lakers seem to have forgotten how to play basketball they made nothing easy for themselves. Davis finish with 32 points and 11 rebounds but looked bother physically due to some type of injury.
Kyle Kuzma played 22 mins and got 16 points of the bench. Which leads me to something that I don't understand, with LeBron being out would it make more sense to start Kuzma in his place? Instead the Lakers started 3 guards in Bradley, Rondo and Green.
The Nuggets were led Paul Millsap with 21 points and kept well balanced scoring wise. Jamal Murray suffer the biggest struggled 3-11 on field goals, 0-6 from 3pt ending with only 6 points. Jokic seem to be on his game as the Nuggets rolled.
Concerns:
Anthony Davis (and/or LeBron James) injuries could put this Lakers team in a really tough spot. The Lakers are barely threading water when one is gone, with two gone sinking looks inevitable. While still on a 3-game losing streak, to 3 teams with 500 or better record, the Lakers still hold the number 1 record in the west. That record 24-6 will only keep them up for so long till they figure some things out.
Lakers play the Clippers next December 25th.
Nuggets will visit the Suns
Thanks for Reading. Join the Nonsense. Leave a Comment.
Should the Lakers be shopping players?? If so, who?